Candied Island
Area Level
NPCs
Om Nom
Candied Island is an island located in the ocean beyond Orchid Bay. Almost everyone in Stormalong Harbor wishes to be the first to Candied Island. Flapjack and K'nuckles tried to get to this island repeatedly, since the island is made out of candy and delicious treats. Other characters also seek this island, such as Stickybeard, Chowder, and Eddy.
FusionFall
In
FusionFall
, when
Danny Phantom
repeatedly searches for
Sam
, she actually is here on Candied Island, with the real
Om Nom
. She has learned martial arts, and protects herself from Fusion Om Nom. She also protects herself from
Candy Wolves
, the lethal, ravenous, and only inhabitants of the island.
She doesn't escape the island until players complete a mission for her, when a Clone Gunship arrives to pick them up. Over ten gunships arrive with two Protector Starfighters, as Dexter claims Om Nom is valuable, for unknown reasons. When the Player defeats Fusion Om Nom in the mission for Sam, the player doesn't realize he is a Super Fusion. Sam tells the player that was a Super Fusion, and that it was too easy. As the player and Sam call for help and leave the Fusion Lair, they hurry to the help they have received. The entire island was covered with Super Fusion Om Noms, as his Fusion somehow has a cloning ability.
A Candy Pirate, Marjorie Marchpane, can be found marooned here; she sells candy-based weaponry to players who address her.
NPCs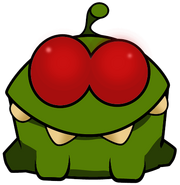 Ad blocker interference detected!
Wikia is a free-to-use site that makes money from advertising. We have a modified experience for viewers using ad blockers

Wikia is not accessible if you've made further modifications. Remove the custom ad blocker rule(s) and the page will load as expected.