Name
Bully Nerd
Boss
Raging Bully Nerd
Level
10
Type
Adaptium
Description
Rudy created the original minotaurish Bully Nerd. There was only one of him then, but Fuse has made things five times worse by making copies infused with Fusion Matter. Watch out for a Fusion wedgie!
Attacks
Eruption

Stun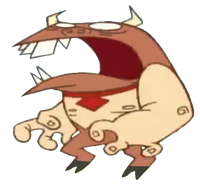 Ad blocker interference detected!
Wikia is a free-to-use site that makes money from advertising. We have a modified experience for viewers using ad blockers

Wikia is not accessible if you've made further modifications. Remove the custom ad blocker rule(s) and the page will load as expected.